Kraker's K-Force Waste: they simply do not come any tougher than this
At Kraker Trailers every effort is made to develop trailers that are seamlessly matched to the customer's transport requirements, while at the same time being as light as possible, without sacrificing strength or quality. K-Force Waste is a good example of this.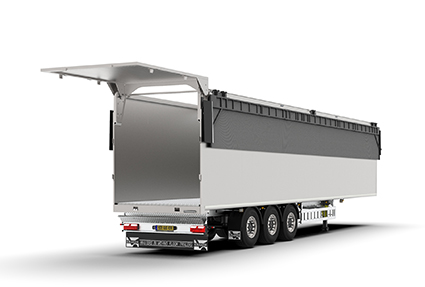 Kraker has developed a trailer specifically for the waste sector in the past, but this trailer has been developed according to the K-Force principle. This means that heavy-duty welds have been replaced by bolted joints, which also enables Kraker Trailers to use a combination of aluminium and steel. This allows for optimal distribution between volume and weight.
The first K-Force Waste was sold by our French dealer Delta Trailers to the end user. This trailer is equipped with a two-piece environmental roof and a hydraulic tailgate. These things make working with the K-Force Waste safe and easy as it is no longer necessary to climb onto the platform. The roof opens and closes fully automatically at the touch of a button. The same applies to the tailgate. A series of options are available on request.
The K-Force Waste also comes with the unique and distinctive 5 year warranty on paint and construction.